JACKSONVILLE, Fla. - The latest forecast path for "extremely dangerous" shows Hurricane Dorian hugging Florida's East Coast early next week and bringing it right over Jacksonville next Wednesday.
UPDATE: Hurricane Dorian now Category 4 storm packing winds of 130 mph
Getting scarier with seemingly every update from forecasters, Dorian was expected to become a potentially catastrophic Category 4 with winds of almost 140 mph before blowing ashore Tuesday afternoon, currently projected to be near Melbourne.
The 8 p.m. update from the National Hurricane Center shows that a Hurricane Hunter aircraft found Dorian with increase maximum sustained winds of 125 mph -- on the verge of a Category 4 hurricane -- and moving west-northwest at 10 mph. It was 575 miles east of West Palm Beach.
A slower west-northwestward to westward motion should begin Friday night and continue into early next week. On this track, the core of Dorian should move over the Atlantic well north of the southeastern and central Bahamas Friday night and Saturday, be near or over the northwestern Bahamas on Sunday, and be near the Florida east coast late Monday.
Additional strengthening is forecast, and Dorian is anticipated to remain an extremely dangerous
hurricane while it moves near the northwestern Bahamas and approaches the Florida peninsula into early next week.
It is forecast to reach Category 4 strength early Sunday afternoon and maintain 130-145 mph sustained winds until it makes landfall. The current models show it would retain hurricane strength as it turns almost due north and moves up the state with its feeder bands over the Atlantic Ocean.
What's new Friday:
Hurricane Hunters reached Dorian Friday evening and found it had strengthened to near Category 4 strength.
Moving westward, it's expected to slow and turn on Monday.
Impact on Jacksonville would not start until Tuesday and last through Thursday. Whatever the final track, the worst will be felt in Northeast Florida on Wednesday.
Still too early for specific north Florida surge or evacuation impacts due to uncertainty on location of north turn and its timing.
The Bahamas has issued a hurricane warning for the northern islands, including the Abacos, Berry Islands, Bimini, Eleuthera, Grand Bahama Island and New Providence.
A Hurricane Watch is in effect for Andros Island.
The timing of landfall continues to be pushed back and the entire peninsula of Florida remains within the forecast cone.
Because the track landfall calls for the storm to turn north and forward motion to slow down, this could bring flooding rains into the greater Jacksonville area through much of next week.
Potential impacts for greater Jacksonville:
Coastal flood advisory through the weekend for potential minor flooding during high tides.
Increasing shower chances Friday through the weekend and into next week.
Swells from the approaching system will grow as it hears, causing potentially life-threatening surf and rip current conditions.
Local tides will already be astronomically elevated through the weekend due to the New Moon.
If the hurricane remains along the coast, coastal flooding erosion will be likely.
Coastal areas could get 6 to 12 inches of rain, with 18 inches in some places, triggering life-threatening flash floods, the hurricane center said. FEMA official Jeff Byard said Dorian is likely to "create a lot of havoc" for roads, power and other infrastructure.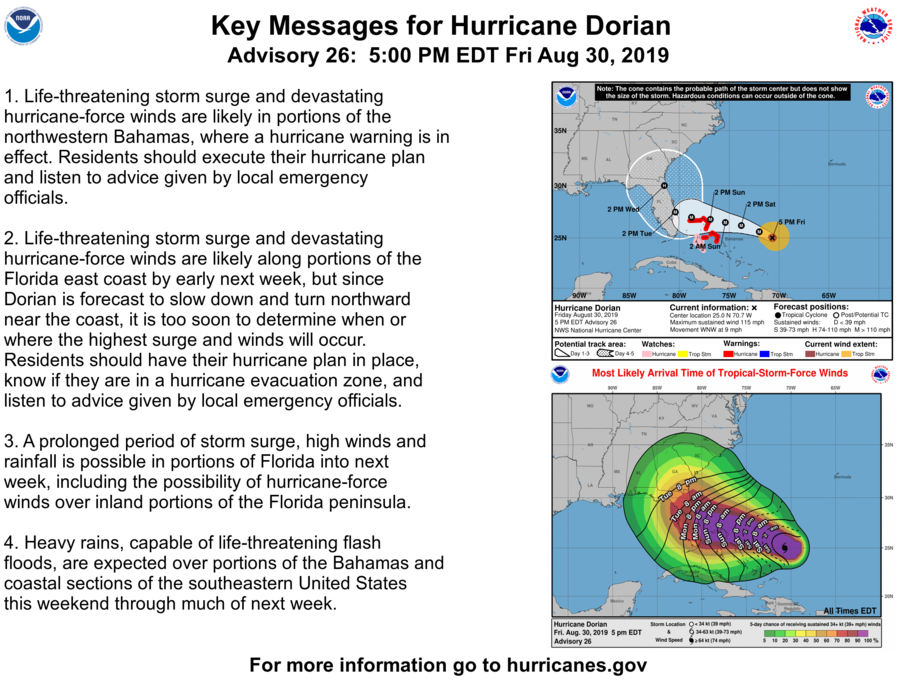 RESOURCE: Know your flood/evacuation zone
RELATED: Only 25 major hurricanes in Florida in past 100 years
President Donald Trump declared a state of emergency in Florida on Friday and authorized the Federal Emergency Management Agency to coordinate disaster-relief efforts.
The hurricane season typically peaks between mid-August and late October. One of the most powerful storms ever to hit the U.S. was on Labor Day 1935. The unnamed Category 5 hurricane crashed ashore along Florida's Gulf Coast on Sept. 2. It was blamed for over 400 deaths.
Copyright 2019 by WJXT News4Jax. The Associated Press contributed to this report. All rights reserved. This material may not be published, broadcast, rewritten or redistributed.