ORANGE PARK, Fla. - They couldn't have children of their own, but they wanted a family.

"We tried to get pregnant like everyone else does -- and it didn't work for us," Vanessa Hodgerson said.

Her husband Cory added, "More than anything, I wanted to be a Dad, and our options were limited."

The Hodgersons turned to adoption as a way to fulfill their dreams. Through a selection process with local adoption attorneys, a local woman offered to give the Hodgersons her baby when it was born. The joy of parenting, dangled in front of them, then snatched away at the last moment.
It wasn't just heart-breaking, it was criminal.
"I felt so stupid! Here we are, pretty educated people, and we just got played for seven months," Vanessa said.
Vanessa is a Jacksonville attorney, who believes her desperation for a family overwhelmed her instincts. Cory, an insurance agent, agrees.
VIDEO:  Parents 'played' by adoption fraud
Adoption is tough, made tougher by a woman who took thousands of dollars from the Hodgersons during her pregnancy, and yet promised the same newborn to another family as well.
The Hodgersons took steps with an adoption attorney, creating a photo book for possible birth mothers to review.
"Basically," Vanessa told us, "It's a profile of your life, it's a love story."
"Going through infertility treatments, start of adoption process, the rejection each time someone looks at your book – it builds! More than anything we want to be parents," Cory said.
A woman named Candace Chester selected the Hodgersons very early in her pregnancy. The illusion lasted until the day after the baby was born.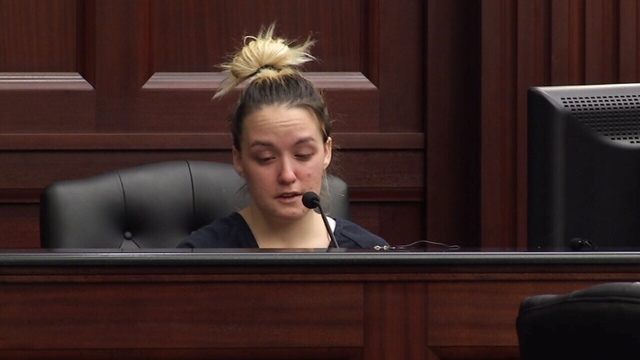 Last fall, Chester pleaded guilty, and was sentenced for adoption fraud. On the stand at her sentencing,
Chester said through her tears, "I never intentionally tried to wave the baby in front of their faces. Just because I was broke and had no money, doesn't mean I intentionally tried to use my baby for them."
Chester is a mother of three, with her first child living at home, and her second child adopted by a Mississippi family. After Chester gave birth to the third child a year ago, she says she changed her mind about giving the baby up. That decision on its own, is the risk adoptive parents take. That isn't criminal –- even if it's devastating for people like Vanessa and Cory.
"Yeah, that morning was hell," Cory said. "When we got that call, I just thought, you've gotta be kidding me."
"We never got to see her, meet her, hold her," Vanessa lamented. "Later that night, sent text message, saying, 'What happened?' The response was, 'Guess God didn't want you to have a family just yet.' (tearful) And that was it! No explanation, no nothing!"
"The social worker said, "She can't do it." Ummm… Just devastating!"
Rocked to the core emotionally, the Hodgersons decided to reach out to the family in Mississippi who adopted Chester's second child. Denee and Caleb Cannon told them Chester had promised the new baby to them, as well. That's the illegal part of the story.
"I was trying to give her the benefit of the doubt that she just changed her mind," Vanessa recalled during testimony in court. "But I had this gut feeling, during the entire pregnancy, that sometimes things weren't adding up. And it wasn't until I spoke with Denee and Caleb that I realized, she had no intent on ever placing the baby with us."
Cory said, "It was just horrible that she would use her baby in that way. And the callousness, that she would celebrate milestones in her pregnancy with both couples."
The Hodgersons knew at the beginning of the process, they'd probably spend money on Chester for living expenses, and the well-being of the unborn child.
They spent about $12,000 on food, household items, moving expenses, on top of dropping everything to run errands for Chester and the birth father of the child the Hodgersons believed they would adopt.
But, Cory and Vanessa say they ignored their instincts when warning signs came up. They believe other couples in their situation do that same thing.
"Let me be clear, when I say adoption is not for the faint of heart, I mean because there is risk," Vanessa said.
"If that's something I can say to adoptive couples, it is 'guard yourself,'" Cory said, "And it's hard to not be desperate. It really is very difficult."
Vanessa said, "Even though all these red flags go off in your mind, the desperation causes you to ignore those, rely on hope."
As the Hodgersons revealed their desperation, they told us they believe they looked past warning signs. Additionally, they think adoptive parents give up a lot of control in the process. They're forced to work with an adoption attorney selected by the birth mother. That attorney may have divided interests, so the Hodgersons believe an additional level of transparency is needed, even a mandate for full disclosure.
Vanessa and Cory say they learned things about the birth mother after the fraud happened -– that they believe would have kept them from continuing the process.
Other red flags the Hodgersons looked past, concern finances, and a funny feeling in their gut. During the first meeting once they were selected, the Hodgersons and Chester talked about money. Chester said she didn't need anything, just her cell phone bill paid. She had a rent-free place to live. That soon changed, with Chester saying electric service had been shut down, and that she needed her own apartment. Vanessa says she knew it was a lie at the time, but didn't want to rock the boat.
Months later, the adoption attorney received an anonymous voicemail, saying Candace was defrauding the Hodgersons. The Hodgersons and the lawyer confronted Chester with the voicemail. She said she'd never heard the voice before. Later, during the investigation by Jacksonville Sheriff's Office, the Hodgersons discovered Chester's attorney found out it was Chester's aunt who made that phone call.
 Despite the lack of honesty, the Hodgersons moved forward, hoping and praying their dream for a baby would come true.
Hope wasn't enough to bring a child to these Florida State graduates, but they do have a great story about adoption.
For this Orange Park couple, the story doesn't end with the crime or the punishment for the woman who deceived them.
In the past year, they've become a family of five.  It's because the Hodgersons investigated what happened in their case of fraud.  It is one of the happiest endings there could be to a story like this.
"I love it, I absolutely love it," Cory said.
 The incredible disappointment led the Hodgersons to start over.
"We decided to go back to drawing board, how to become parents," Cory remembered.
A question they hadn't considered before, turned their world upside down again.  This time, for the better. When the Hodgersons visited another adoption attorney, two brothers and their little sister sat in the waiting room. Their mom was there, giving them up for adoption.
"Vanessa lit up. I started sweating," Cory said. "It's probably two miles from his office to Vanessa's office. By time we got there Vanessa was crying, saying she thinks this is what we need to do, apply for these three. I said, (laughing) I think you need a drink."
What they both needed was to think on it, and pray, and find the courage to expose their emotions again. Once they did, they were parents in the blink of an eye.
Cory said, "We applied Monday, were selected Tuesday, met birth mother Wednesday, we met the children that Saturday, the following Saturday: they were ours."
Four-year-old Johnathon, 3-year-old Julian, and 15-month-old Brooklyn – burst onto the Hodgerson scene. Instant family meant mayhem at the beginning.
"We were trying to feed them, keep them alive, and off of each other," Vanessa said.
"No, there's no book that will teach you how to parent three children, if you've never parented before," Cory laughed.
The Hodgersons say they've been incredibly blessed, and it happened just weeks after the biggest disappointment in their lives.
"There's nothing like it!" Cory told us. "You don't experience joy like this from anything else. They rely on you, make me laugh every day."
Cory admits he wasn't instantly sold on adopting three children when he first saw them. What changed his mind? The Hodgersons point to their faith, and things they don't believe were random connections.
For instance, just before they met their three children, the put twin beds in an empty bedroom in their home – never intending to fill those beds with preschool boys. Plus, the bedding they purchased for the crib and the nursery they prepared for the newborn they never received made a connection. The brand name is Brooklyn, just like their little girl.
The Hodgersons have chronicled both the sorrows and the joys of their journey on Facebook.
Cory and Vanessa say they are also pursuing changes to the adoption laws in the state, trying to make things better for the children, and the adults who want to adopt.
Copyright 2014 by News4Jax.com. All rights reserved. This material may not be published, broadcast, rewritten or redistributed.