JACKSONVILLE, Fla. - Renay Daigle was in her 30s, lived a healthy lifestyle and was pregnant with her 2nd child when she was diagnosed with type 2 - triple negative - breast cancer.
Daigle said before cancer, she didn't see herself as a strong person, but now she says that's the first word she would use to describe herself.
"To say that I was shocked is really an understatement, I was beyond shocked, my husband was beyond shocked, it just seemed that it was impossible," said Daigle.
It was October 24th, 2002 when Renay Daigle was diagnosed with breast cancer, doctors found a tumor in her left breast. She was 6 months pregnant.
Daigle said she had the urge to mow the lawn. Something she felt she wouldn't be able to do further along in her pregnancy.
"I pulled really hard on the lawnmower pull and I struck myself in the chest and made a big welt and really didn't think anything of it," said Daigle.
Daigle said she was at a doctor's appointment, getting her unborn baby checked out when she showed her doctor the welt.
"She just said look, it's probably nothing, it's probably from you just striking yourself but go downstairs and there's a surgeon and I just want you to talk to him and let him check it out and unfortunately he checked it out, asked me to go for a biopsy and the biopsy showed it was cancer," said Daigle. "My next thought is that this cancer picked the wrong girl, I'm gonna fight this all the way. I am going to have a really bad year and then I'm going to be done with it, that was my hope."
In October Daigle had a mastectomy, but decided to hold off on the chemo until her baby was born.
"With every kick, with every motion I was like we're fighting, I'm not going to let you down, and I think it helped me, it scared me to death but it motivated me to get her out safely," said Daigle.
And she did. Bailey was born on January 16th, 2003, a healthy baby girl.
Although Daigle's pregnancy was over, her fight against cancer continued. She went through four aggressive chemo regiments, 30 radiation treatments and reconstruction surgery.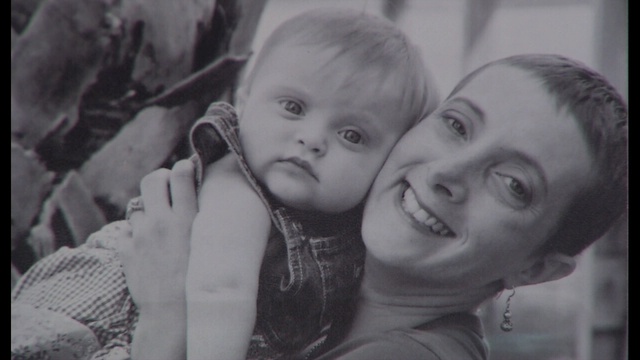 Her eldest daughter Hannah, who was 3-years-old at the time, made her macaroni necklaces she would wear to every treatment.
"These were my little 'hey I'm a mom hear me roar' necklace thing... I'm fighting it, and I'm fightin it for them," said Daigle.
She said through her treatment she lost her hair, but her little girls kept her motivated.
"We had a contest, who was going to have more hair first, me or Bailey so I think she might have won," said Daigle.
Daigle said Komen North Florida was a huge support for her as the local Race for the Cure event happened around the same she was diagnosed.
"I was pregnant still when I did the first Komen and I was going back and forth white shirt-pink shirt-white shirt-pink shirt, I didn't want people to know and I did put on a pink shirt and promptly ran into somebody who said 'why are you wearing a pink shirt?' and I didn't even know what to say, I was so rude and walked away because i didn't have an answer yet," said Daigle.
As time passed, Karen said she felt more comfortable talking to her friends and family about her diagnosis. She said Komen was a huge help because the people involved in the Komen Foundation made a difficult disease feel hopeful.
So every year she raised money for the foundation, ran in the Race for the Cure and even started some of her own fundraisers to help support Breast Cancer research.
Daigle has been cancer-free for about 11 years now. She said she is not worried about the possibility of the cancer coming back, but worries about her two girls.
"Part of the reason I run and give back and everything is that I want this gone from our earth, you know the worst thing that could happen is for one of my daughters to have it and you know they've asked me, am I gonna get it and I say to them no, you have a higher likelyhood, that doesn't mean you're gonna get it and that's why we raise money together, that's why we run, and that's why we fight and that's why I think we're getting really close to a cure," said Daigle.
She says donations made through the Komen foundation really help with, not only those affected by breast cancer, but the research to help find a cure and help prevent the disease from happening to anyone else.
Copyright 2013 by News4Jax.com. All rights reserved. This material may not be published, broadcast, rewritten or redistributed.