The Florida section of U.S. 1 saw the most fatal crashes of any road in the United States in the last 10 years, according to a study by Geotab on the most dangerous highways in America. .
Geotab, which specializes in fleet management solutions, looked at the fatal crash rate, number of crashes and number of fatalities in all 50 states, finding Florida's U.S. 1 ranked No. 1 in all three categories.
In the last decade, Geotab says, there have been 1,011 deadly crashes resulting in 1,079  fatalities  on the highway, which runs through 13 Florida counties, from its southern tip in Key West to Hilliard, at the Florida-Georgia border.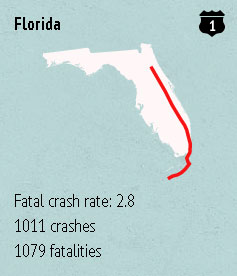 VIEW: Most dangerous highways in America
Through much of Florida, U.S. 1 is known as Dixie Highway. In St. Augustine, it's called Ponce de Leon Boulevard. When it reaches Duval County, U.S. 1 becomes Philips Highway, then Kings Avenue for a few blocks before It crosses the Main Street Bridge and continues on Main/Ocean streets through downtown. Turning to the northwest, it goes by names Martin Luther King Expressway and New Kings Road.
Geotab reported the highway with the second highest number of fatalities was Interstate 40 in Tennessee, which saw 517 fatalities in 437 deadly crashes.
The study did not include what section of U.S. 1 was found to be the most dangerous.
Geotab's fatal crash rate is based on the annual number of road fatalities and fatal crashes according to the National Highway Traffic Safety Administration, adjusted for the average daily traffic counts provided by the Federal Highway Administration.