JACKSONVILLE, Fla. – It's easy to think child abuse happens to some other family in some other neighborhood. In reality, it happens multiple times every day.
Florida's child abuse hotline averages 77 calls from Northeast Florida each day. Those calls are about children neglected, beaten or worse.
A woman whose 2-year-old niece, Rosie, suffered such severe head trauma she was paralyzed, shared her family's painful story of abuse with the hope it will prevent another child from the same fate.
"At some point, someone took their hands and smashed in her ears on both sides of her head," said Rosie's aunt, Mandy Rhoden. "I didn't think she was going to make it."
Rhoden was speechless when she saw her niece for the first time in the hospital. The trauma caused the 2-year-old to have a stroke.
"She was paralyzed on the left side and could not move her hand or leg," Rhoden said. 
Video of Rosie in the hospital shows her whole body quivering from a seizure from the brain damage. The white of her left eye was blood-red.
A diagram showed all of the bruises on her little body.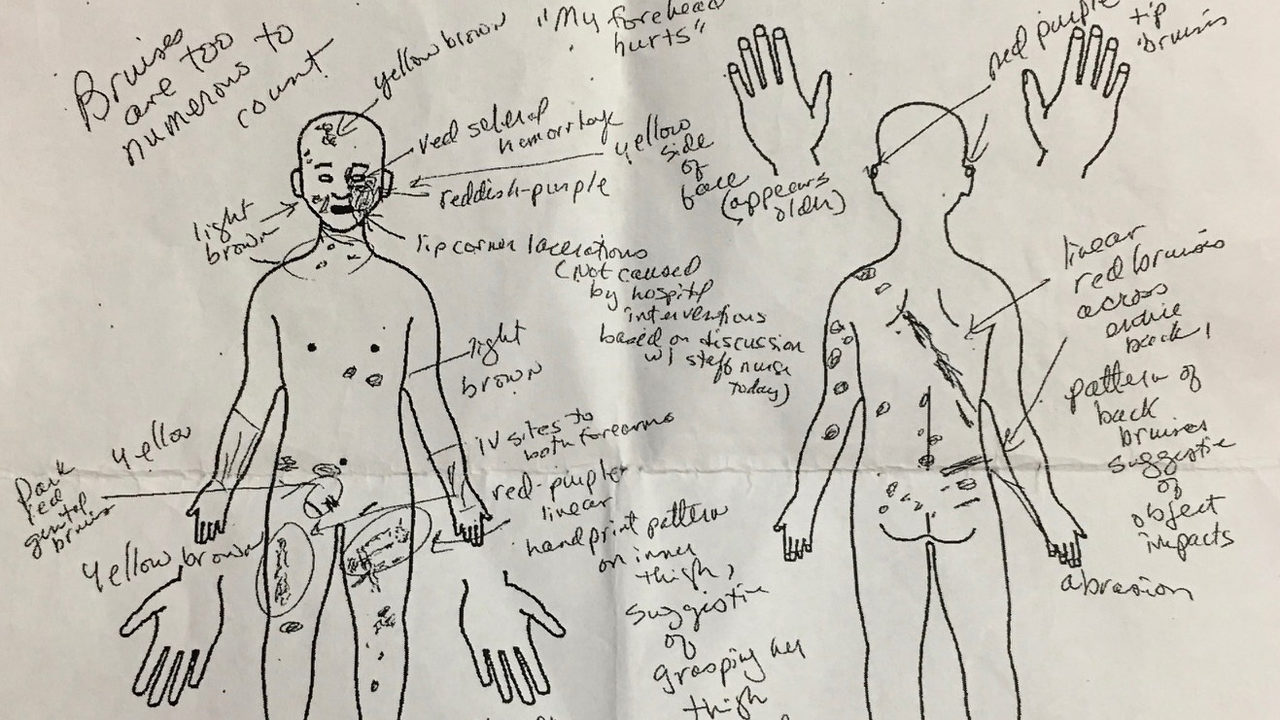 "There were so many bruises on her body, they couldn't even count them all," Rhoden said.
Rhoden had been trying for months to get her sister -- Rosie's mom -- to give her custody of the girl. Instead, the mom turned the child over to a friend.
"He said she fell out of her car seat and she hit her head on the ground, and that's what caused her stroke," Rhoden said.
Jeremy Leonard, 33, is charged with aggravated child abuse. The officers who arrested him reported finding a hole in a wall of his home about 3 feet from the ground. That's about the height of Rosie. Leonard has pleaded not guilty and is expected to be in court later this month.
After the injury, it took weeks for Rosie to move her left hand and months more for her to learn how to walk again.
Now 4, Rosie is in a much happier, safer place, but she still has to wear a brace around her ankle to walk.
Rhoden has adopted her, along with another niece who was born with fetal alcohol syndrome.
She understands that raising children is hard.
"It is not easy for me. I am a single parent. I have a full-time job. I have two children and Rosie has all these therapies and doctors' appointments. Do I get frustrated? Yes. But never with them."
She hopes that sharing Rosie's story will remind anyone who cares for a child to stop before doing something that will change your life and a child's life forever.
"Don't let your last resort be abusing a child that has not done anything to deserve the abuse you are dishing out to him," Rhoden said. "You need to step away, take a few minutes to gather yourself and remember what you are there for. You're there to be their parent."
Doctors at Wolfson Children's Hospital have become concerned about the number of child abuse cases they've treated recently, especially among babies.
It's why Wolfson has started a new initiative called Take 10: Get Active, Not Angry.  The idea is to teach anyone who cares for a baby or child what to do, if they find themselves getting angry or frustrated.  
"If you're clenching your teeth or fists, you need to Take 10," said Dr. Nick Poulos, trauma director and pediatric surgeon. "Someone doesn't get up in the morning and think about purposely abusing their child."
VIDEOS: Jen's interview with Wolfson's trauma director Dr. Nick Poulos |
Doctors find child abuse triggers, warn of spanking dangers
The injuries Poulos often sees, involve someone who has grabbed a child and shaken him/her.  This can be a quick, instinctive reaction when someone gets angry, but the damage to a baby or child's brain from a violent shake can be catastrophic. The Take 10 initiative reminds parents or child caregivers to calm down before they physically injure a child.
Take 10 offers alternatives to losing your temper:
Drop to the floor and give me 10 push-ups
Put your baby in the infant carrier and use it to do curls
Do 10 jumping jacks
Jog in Place
Walk 10 laps around the house (or baby's room)
Do squats
Jump rope
How many Burpees can you do in 1 minute?  Find Out!
Sing your favorite song.
What else could you do to get active, not angry?  (Fill in the blank)
Other suggestions from Wolfson doctors are available at the Positively Parenting section of their website.
If you suspect abuse or neglect, you are urged to report it online at reportabuse.dcf.state.fl.us or call 1-800-962-2873.