ORLANDO, Fla. - Attorneys for George Zimmerman, the neighborhood watchman who shot and killed 17-year-old Trayvon Martin, released another round of documents Thursday, including the teen's cellphone records and pictures from this phone.
Also Thursday, Zimmerman's attorneys filed motions asking to delay his trial, and for sanctions against the prosecutor for not turning over this material to the defense sooner.
Circuit Judge Debra S. Nelson will decide if the trial will be pushed back six weeks as Zimmerman attorney Mark O'Mara requested, or remain set for jury selection to begin June 10.  The judge may rule on the defense motions at a hearing set for Tuesday
Eight reports, totaling more than 20 pages of Martin's cellphone records and texts to and from his phone were released Thursday.
Among the text messages were conversations titled "hoodlum" and "gangsta" and "weedhead" with whoever is on the other end of the text message.
One message says, "Caus a addiction 2 alcohol is mo harsh den I addiction2 weed."
Two weeks before Martin's shooting death he sent a message saying: "I got in sum trouble 2day." A few days later, there's a sent text message sent that reads: "I got weed nd I get money Friday."
In one of the records, Martin tells someone his mother kicked him out of the house. Some of the texts have been redacted so it's not clear who Martin is texting in the records.
DOCUMENT: 3rd discovery | Martin phone records: 1 | 2 | 3 | 4 | 5 | 6 | 7 | 8
IMAGES: Photos from Trayvon Martin's cellphone
Photos from Martin's phone included pictures of marijuana growing, a handgun and several photos of himself, a couple showing him with an extended middle finger.
In one of the videos of a street fight in Miami, Martin is seen in the background wearing a striped shirt
Other documents released included Martin's school records, Zimmerman's medical report the day after the shooting, a handwritten letter from one witness and pictures of another witness.
In one of the records, Zimmerman sent an email regarding a burglary and a prowler. Sanford Police Department also gave someone a trespassing warning days before the shooting, according to the evidence released.
Attorneys for the Martin family issued a statement saying most of the photos released were irrelevant and will not be admitted into evidence in the case.
"Is the defense trying to prove Trayvon deserved to be killed by George Zimmerman because the way he looked?" the statement from the Parks and Crump law firm asked. "If so, this stereotypical and closed-minded thinking is the same mindset that caused George Zimmerman to get out of his car and pursue Trayvon, an unarmed kid who he didn't know. The pretrial release of these irrelevant red herrings is a desperate and pathetic attempt by the defense to pollute and sway the jury pool."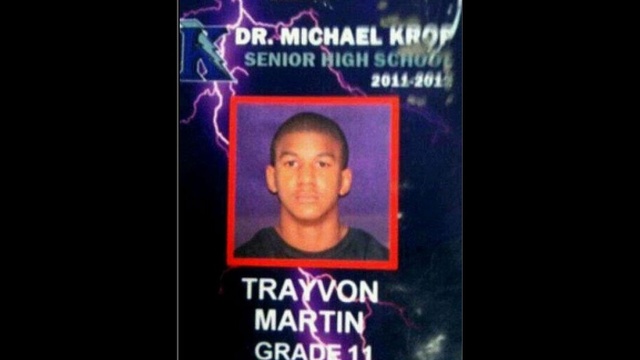 State Attorney Angela Corey, appointed special prosecutor in the case, doesn't appreciate the release of this material, either.
"Not everything found by law enforcement, and certainly not something found on a phone somewhere, is proper evidence based on the rules that we have in Florida," Corey said.
The defense team calls this material evidence to counter prosecutors' portrayal of Martin as an innocent victim.
"If they had suggested that Trayvon is nonviolent and that George is the aggressor, I think that makes evidence of the fighting he has been involved with in the past relevant," said O'Mara.
Many other lawyers say most of this material will never be shown inside the Seminole County Courtroom during the trial this summer.
The new president of the local chapter of Florida Association of Criminal Defense Lawyers agrees with the prosecutor on this issue.
"There is no reason why this information has been released, other than to affect jurors," said attorney Gene Nichols. "The allegation, or what the Zimmerman defense team wants everyone to believe, is that Trayvon was a violent young man. They want you to believe that Trayvon was involved with drugs because maybe he made statements over his texts. These are texts that would most likely never see the light of day in court."
Cory said she believes the Florida legislature should change the rules so that no evidence should be released to the public prior to trial, and then only what the judge has ruled as admissible during the trial.
Jury selection in Zimmerman's second-degree murder trial is slated to begin next month. Zimmerman has pleaded not guilty, claiming self-defense.
Copyright 2013 by Post-Newsweek Stations. The Associated Press contributed to this report. All rights reserved. This material may not be published, broadcast, rewritten or redistributed