GLEN ST. MARY, Fla. - Several people are under arrest after the Baker County Sheriff's Office broke up a cockfight in Glen St. Mary on Sunday where more than two dozen people were gathered.
Two men were arrested on charges of running chicken fighting: Michael Burnsed and Jeffrey Griffis.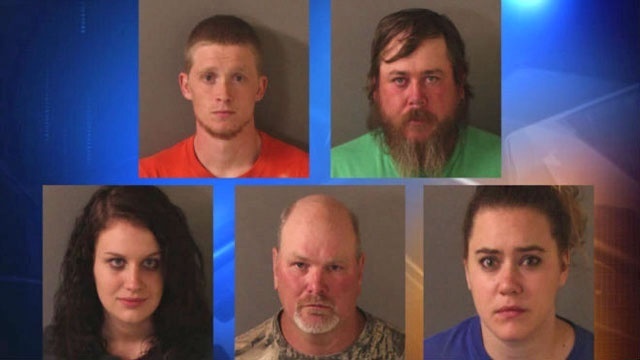 The Baker County sheriff said police went on to the rural property in Glen St. Mary and found 19 men and women and nine children as young as 3-years-old either participating in or spectating the cockfighting. The children's parents were charged with contributing to the delinquency of minors.
Deputies say many of the suspects ran and got away, and right now only six are locked up. Officials say when caught, the 13 other people will be facing charges.
"They probably had no idea at all that this is a third-degree felony for fighting chickens and it's a first-degree misdemeanor for not staying around," Sheriff Joey Dobson said.
Nine dead chickens were found at the scene, along with fighting cages, drugs used to inject the chickens, including one that will make them not bleed as much, and Vitamin B12.
"Baker County is an animal-lover county," said Dobson. "They should not be treated like this.
The sheriff added that some of the suspects have criminal records while others do not. He also said approximately 20 roosters were saved from the property by animal control officers.
Copyright 2014 by News4Jax.com. All rights reserved. This material may not be published, broadcast, rewritten or redistributed.