ST. AUGUSTINE, Fla. - University of North Florida research biologists left out of Mayport on Monday on another marine mission. They motored to the St. Augustine Inlet to deploy a receiver on a buoy about a mile from shore in their continuing efforts to learn more about great white sharks.

A couple of weeks ago, a St. Augustine scuba diver exploring an artificial reef got some unexpected company: a great white shark east of the inlet.
It's one of five confirmed great white shark sightings within 20 miles of the coast of northeast Florida since the first of the year.
The Massachusetts Division of Marine Fisheries and nonprofit OCEARCH have tagged nearly 50 great whites off the East Coast in recent years.
Last year, a 16-foot shark named Mary Lee had her tracking device ping in the surf zone at Jacksonville Beach. A month later, OCEARCH researchers caught, tagged, and released another 2,000-pound shark they named Lydia a mile off Mayport.
UNF researchers have already installed three receivers on buoys in Nassau Sound and the St. Johns River and attached four more to wrecks and artificial reefs 20 miles offshore.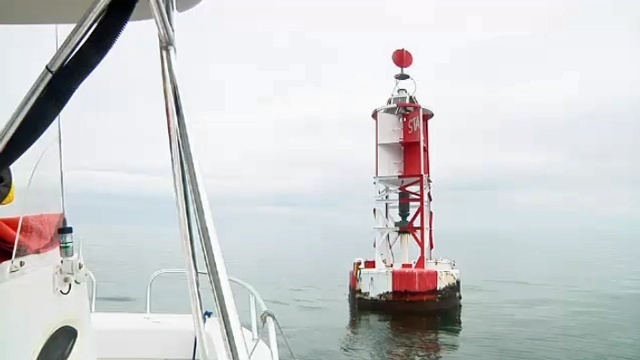 The goal is to learn more about tagged species, especially great white sharks.
"Are they spending a lot of time in the north Florida area? Are they just passing through?" UNF research biologist Mike McCallister said. "And hopefully with deploying these receivers, we'll be able to get a better handle on some of those questions, maybe identify some hot spots for white shark activity in the southeast U.S. as well, and try to answer questions as to why they're coming down here during the winter months."
During Monday's mission, the researchers crimped a cable ring to the buoy.
"If the buoys have to be serviced or there's a storm coming and we're expecting high seas, we can remove it so the gear doesn't get damaged as well," McCallister said.
They then wrapped the receiver in electrical tape, "preventing all the tiny marine organisms that like to grow and encrust on things in the water," McCallister said.
They attached weights to another cable to prevent the receiver from surfacing and secured it with a bolt and zip ties.
"So now we're ready to deploy the receiver in the water," McCallister said.
The researchers lowered the receiver, attached to the buoy, about 15 feet under.
Now every few months, researchers will go out there and make sure the receivers are still working. Then they'll download the data to see what kind of activity has been going on over the last few months.
They're hoping that information will lead to answers about the mysterious creatures below and the underwater king of the food chain, the great white shark.
Copyright 2014 by News4Jax.com. All rights reserved. This material may not be published, broadcast, rewritten or redistributed.