JACKSONVILLE, Fla. - A carjacking at a Northside Olive Garden on Monday night led to a shootout with a 20-year-old man and police officers overnight on the Westside, according to the Jacksonville Sheriff's Office.
Enrico Rhodes stole a car from three employees leaving the Olive Garden restaurant off City Station Drive shortly after 11:30 p.m., according to JSO Assistant Chief Christopher Butler.
Butler said Rhodes was crouched behind the restaurant wearing all black, and he charged toward the employees with a gun, demanded their keys, money and cellphones, and stole a 2006 Chevy Impala.
An officer later spotted the stolen vehicle on the Westside near Roosevelt Boulevard and Plymouth Street. Butler said that officer pursued Rhodes to Old Middleburg Road, where Rhodes crashed into a fence.
Butler said Rhodes shot at police while he was driving. When police disabled his car, Rhodes got out and ran, Butler said.
He said four officers fired shots at Butler but did not hit him.
"We saw the car was like a four-door silver car or so, and it had drove into the back of someone's yard -- drove into the back of the yard and crashed," neighbor Ebony Ballard said. "Don't know what happened, but we heard that the guy was shooting at the police."
Butler said police set up a perimeter, and a K-9 found Rhodes in a driveway. Butler said he did not resist arrest and did not have a gun on him.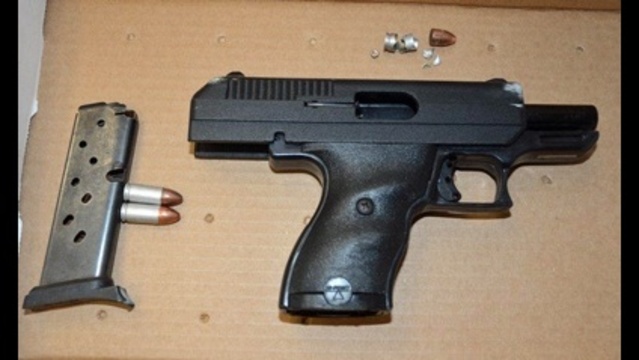 Butler said police found a 9 mm handgun in the 1700 block of Old Middleburg Road a few blocks from where the crash happened, and they were working to confirm it was Rhodes'.
Police said Rhodes sustained injuries from the crash and was taken into custody.
The four officers who fired shots will continue working while the investigation is underway, Butler said.
Old Middleburg Road remained closed from Wiley Road to Hyde Grove until about 8 a.m.
Olive Garden released the following statement on the robbery and carjacking:
"The safety of our team members and guests is our highest priority, and our first concern is for our employees who were affected by this incident. We're thankful no one was injured and are doing whatever we can to help our team members get through this. In addition, we're working closely with the Jacksonville Sheriff's Office on their investigation, including providing them with surveillance video from around the time of the incident. We have one of the best safety records in the restaurant industry, nevertheless we have increased security at this location."
Copyright 2012 by News4Jax.com. All rights reserved. This material may not be published, broadcast, rewritten or redistributed.