JACKSONVILLE, Fla. - It has been two years since Andrew, Alexander and Tanner Skelton disappeared from their Michigan home. The center for Missing and Exploited Children are releasing new age progression photos of the brothers to show the public what they would like like today.
Skelton's grandmother, who lives in Jacksonville, spoke with Channel 4 Tuesday night and said she's still holding out hope that her grandchildren are still alive and well.
"I don't still buy them presents for the same reason I don't have a missing poster in my window, it just creates tears," said Roxann Skelton. "It's too painful, I cry a lot especially now, I cry every day," she said.
The boys' father and Roxann's son, John Skelton, is currently serving 10 to 15 years in prison for unlawful imprisonment of the boys. They were 9, 7 and 5-years-old when they disappeared.
Law enforcement believe the boys are dead, but their grandmother doesn't agree. She and the boys' mother, Tanya Zuvers, who still lives in Michigan hope the age progression photos will help find their boys.
"The little boy features are more grown up and then you mourn the two years that we've lost," said Zuvers.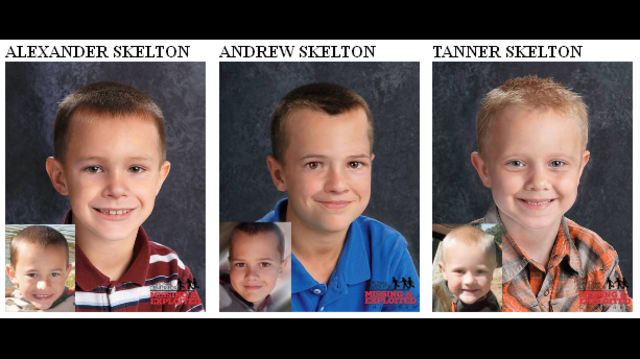 www.missingkids.com
While Skelton says she's never given up hope, she thinks the photos released by the Center for Missing and Exploited Children will bring new hope to the case.
"Every day I see children in the parking lot in the grocery store – and I am always looking," said Skelton.
"I believe someone other than John Skelton knows where they are ," said Zuvers.
Tonya Zuvers told Channel 4's sister station, WDIV in Detroit, that she plans to visit John Skelton in jail soon. She hopes during her visit Skelton will give her more information as to where their children are.
Investigators believe that Skelton killed his sons and disposed of their bodies. Zuvers said she won't stop searching and believing until the mystery is solved.
Copyright 2012 by News4Jax.com. All rights reserved. This material may not be published, broadcast, rewritten or redistributed.