NASSAU COUNTY, Fla. - A car crash in Nassau County killed the 15-year-old passenger and left the driver in critical condition.
According to a report from the Florida Highway Patrol, a red Chevrolet pickup driven by Dustin Hunt, 17, was traveling westbound on County Road 119 in Bryceville. Hunt tried to pass traffic while negotiating a curve at a high speed. Hunt lost control of the pickup and overturned it several times. 
During the crash, an incoming car was forced to swerve to avoid hitting Hunt, who was ejected.
Both Hunt and his passenger, Kyle Warren, 15, were flown to Shands Jacksonville Medical Center in critical condition. Warren was pronounced dead at the hospital.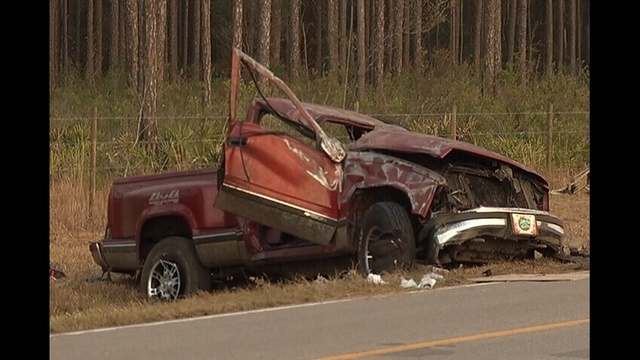 Troopers said Warren was wearing his seat belt and Hunt was not.
Attorney Gene Nichols is representing the Hunt family. He released this statement on Saturday. "Dustin Hunt and his family are deeply grieved by the tragic loss of Kyle Warren, and extend their heartfelt prayers to his family. Kyle and Dustin were the closest of friends and while Dustin fights for his life, his family continues to mourn the loss of of Kyle. Dustin's family appreciates prayers for their son's recovery and for Kyle's family and friends."
The crash remains under investigation.
Copyright 2013 by News4Jax.com. All rights reserved. This material may not be published, broadcast, rewritten or redistributed.