NASSAU COUNTY, Fla. - A Bryceville teen is still recovering after being involved a fatal rollover crash Friday, while the family of his friend killed in the accident is preparing to say goodbye.
Seventeen-year-old Dustin Hunt and 15-year-old Kyle Warren were in a red pickup truck on County Road 119 in Bryceville on Friday afternoon when it crashed. The Florida Highway Patrol says Hunt lost control of the truck while trying to pass some other cars.
Warren died from his injuries.
Hunt's attorney, Gene Nichols, said Monday his client is doing much better at Shands Jacksonville Medical Center. Nichols said the swelling around his brain is going down, but there is still concern about permanent brain damage.
Nichols said Hunt is answering questions but has no memory of the accident that killed his friend. In fact, his family still hasn't told him his friend is gone, Nichols said.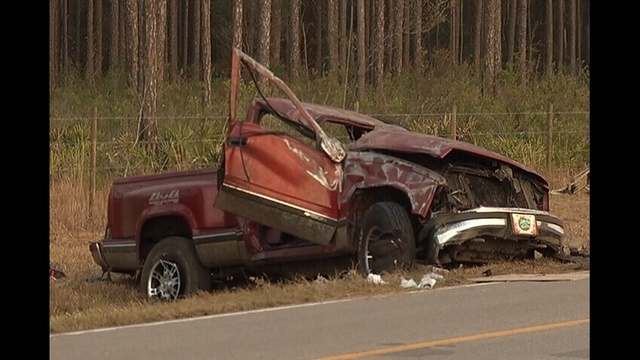 Students went back to West Nassau High School on Monday knowing one of their own would never walk the halls again. On the first day of class since the accident, counselors were on hand to help. And as they mourn the loss of one schoolmate, they're praying for the recovery of another.
"I spoke to his mother this morning and he is sitting up he is coherent, he is able to converse a little bit with his family," Nichols said of Hunt. "He still does not know what happened in the crash. He has no comprehension really of there being a crash."
FHP said no charges have been filed against Hunt, but that could change.
Nichols said hunt didn't have drugs or alcohol in his system, so he's not concerned about a DUI manslaughter charge, but rather a vehicular manslaughter charge.
"Which means that he would have been driving recklessly, have a willful and wanted disregard for the safety of others," Nichols said. "I don't anticipate the facts are going to rise to that level. You normally hear that when someone is doing 130 mph down the highway with no lights on."
Nichols said his client simply overcorrected.
Channel 4 crime and safety analyst Ken Jefferson said the the final determination will be made as FHP recreates the scene, talks to witnesses and completes the investigation.
"Unfortunately, the passenger cannot testify as to what happened leading up to the accident, you know," Jefferson said. "Could they have been playing around, could they have been distracted, you know? It's a lot things, a lot of unanswered questions that investigators may not ever ever get the answers."
The FHP investigation could take anywhere from a few weeks to a month to finish.
In the meantime, Nichols said the families of both Warren and Hunt are very close, so they are trying to support each other as Hunt recovers and they prepare for Warren's funeral.
A service will be held at 7 p.m. Tuesday at First Baptist Church in Baldwin.
Copyright 2013 by News4Jax.com. All rights reserved. This material may not be published, broadcast, rewritten or redistributed.