The top spellers from each school district in Northeast Florida will compete in the First Coast Spelling Bee on Friday, March 9. The bee, held at the Florida Theater, will be televised on Channel 4, The Local Station, and streamed on News4Jax.com.
INTERACTIVE MAP: Where are this year's top spellers in Northeast Florida?
The winner will receive an all-expense paid trip to Washington, D.C., to represent the First Coast at the Scripps National Spelling Bee.
The 2018 Spelling Bee finalists
ALACHUA COUNTY:
Sydney Miller | Gracie Peprah-Asante
BAKER COUNTY:
Dakota Conaway-Ellis
CLAY COUNTY:
Josiah Ilagan | Erik Williams
COLUMBIA COUNTY:
Ava Allen | Rosalie Speer
DUVAL COUNTY:
Catherine Nichols | Saachi Sharma
FLAGLER COUNTY:
Keelin Vera Cowart-Goldberg | Alisha Jageswar
HAMILTON COUNTY:
Gracie Tabor | Charles Wall II
MADISON COUNTY:
Erin Burnett | Riley Browning
NASSAU COUNTY:
Teddy Gurt | Ella Weepie
PUTNAM COUNTY:
Jayden Wicker
ST. JOHNS COUNTY:
Carly Miller | Jackson Willis
SUWANNEE COUNTY:
Isabella Baldwin | Taylar Smith
UNION COUNTY:
Aidan Newsom
Tap on the name above or scroll through the list below to read about the students who will compete:
Dakota Conaway-Ellis
School: Baker County Middle School
Grade: 6th
Age: 12
Hobbies: Computer gaming and Blogging
Sydney Miller
School: Oak Hall School
Grade: 7th
Age: 13
Hobbies: Cross Country, Basketball, Track, Band, FCA and Latin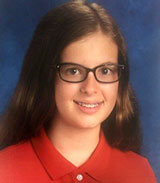 Jackson Willis
School: Liberty Pines Academy
Grade: 8th
Age: 13
Hobbies: Tennis and Cross Country
Copyright 2018 by WJXT News4Jax - All rights reserved.