JACKSONVILLE, Fla. - Less than 24 hours after water rushed into many riverfront yards in Jacksonville's historic San Marco neighborhood during Hurricane Irma, storm victims could be found Tuesday sifting through their property while being thankful floodwaters didn't fill their homes.
Some homes in San Marco were spared from the outside, and others from the inside. One home had visible damage in the garage, where it appeared floodwater came up almost 1 foot -- likely ruining the washer and dryer inside.
But one of the most telling miracles happened to another nearby home. The water came up to about 6 inches, but did not enter the home, which was elevated, so everyone inside was safe.
Then, the cleanup began Tuesday. San Marco resident Charlie Davis, who was out of school, was helping with the hard work of cleaning up the damage that was done by Irma.
Luckily, Davis said, he was not home when his house flooded.
"We knew that the water would get super high, so we actually went over to my grandparents' house. We came back today and it was our first day back," he said. "It was, like, crazy. There must have been a lot of water back here."
The cleanup continues at each and every home, because each home tells a different story, after hurricane floodwater swept through the San Marco area.
Irma's wrath was felt across the city, including in Mandarin, where cleanup was also underway Tuesday.
Floodwaters damaged properties, and some people had waters reaching knee-deep in their neighborhood and pouring into their homes.
The Regans said they've never seen flooding like this before. But handwritten letters Jeff Regan's father wrote him while serving in the Navy somehow survived the flooding that damaged his home.
"He died at 47, so it's something I've kept for a long time, and for my kids, too," Jeff Regan said. "I never dreamed that it would flood but I feel pretty fortunate that most of these letters came though."
He and his wife, Kathy Regan, said 8 inches of water flooded their Mandarin home.
"I was devastated in the morning when I woke up and saw it," Kathy Regan said. "I mean, the tides were so high. The water was at my house and the water was in my garage, living room ... Ot was just one thing after another, so it was tough."
The Regans said their dock was still underwater Tuesday, and one of their cars no longer works.
"The carpets are wet. It won't start -- the ignition," Kathy Regan said. "Electrical stuff, all that is pretty much gone."

But having his father's letters still in good condition gives Jeff Regan peace of mind that everything will work out. Luckily, the Regans told News4Jax, they have flood insurance.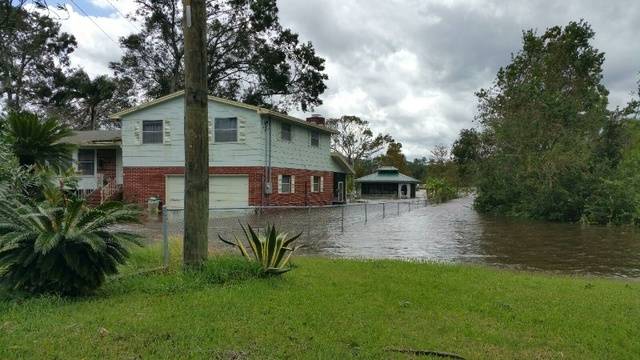 On Jacksonville's Northside, the cleanup also continued Tuesday after Hurricane Irma sent floodwaters into homes and left damage in its wake.
One side of Baisden Road is in a flood zone because the homes back up to the Broward River. At the height of the storm, the river overflowed into people's homes.
Homeowner Jennifer Sampson said when Hurricane Irma's outbands began dumping endless onto Jacksonville, it caused the Broward River to overflow into several backyards along Baisden Road.
"The current was very swift. There were whitecaps," Sampson said. "I was expecting to literally see a surfer. It was like the ocean in my backyard."
Another told News4Jax the lower level of his home received significant flood damage.
Sampson said at least 6 inches of water flooded an entire room of her home. The floodwaters later receded, but the odor of mildew remained Tuesday.
"The water just kept coming to the front of the house," Sampson said. "It was bad."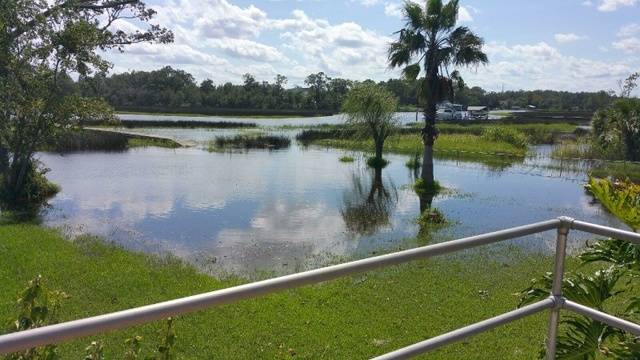 Fortunately, damage to the home was confined to the front room.
Sampson said she has flood insurance, but has yet to get an estimate on how much it will cost to fix the damage.
Flooding wasn't the only cause of damage on Baisden Road. The high winds from Hurricane Irma toppled many trees. Residents said one massive tree collapsed about 4:30 a.m. and came within inches of killing a 77-year-old woman who was in her bed asleep.
Jennifer Hull, who lives across the street, said she heard a loud cracking sound.
"I looked out the window and saw the tree coming down," Hull said. "My first instinct was to grab my husband, throw clothes on and run to make sure she was OK."
Hull said she was so concerned about her neighbor that she didn't think about her own safety as she ran across the street.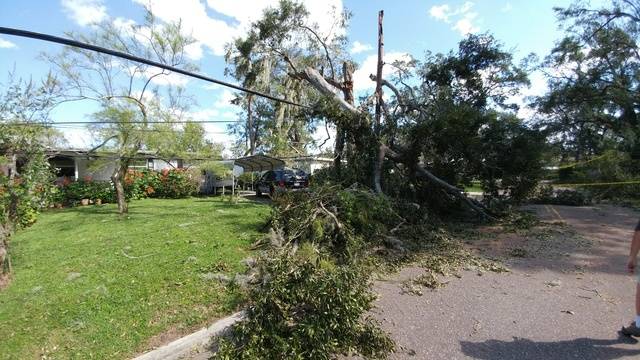 "As we were coming across, my husband yelled, 'Watch the power lines,'" she said.
Hull was worried because she first thought the tree fell on the front of her neighbor's home, where the 77-year-old woman's bedroom is located. Ray Payne, the woman's son, said his mother was sleeping in that room when the tree fell.
"I'm surprised it didn't hit her house. It laid right next to the house and barely missed that house right there," Payne said. "It's a godsend that it didn't hurt anyone."
Thankfully, the woman was not harmed. Payne said she was startled, but is doing OK and has been resting.
"This could have been a fatality because of the angle, speed and size of the tree," Hull said.
Many people are not out of the water yet. They're still dealing with flooding, no electricity and a run on supplies. But rescue crews from all over the country came to Jacksonville to assist.
And the end of the day, it's people helping people and taking care of each other.
Recovery process begins
A day after emergency teams rescued more than 350 people in the River City during a flooding emergency when the St. Johns River breached its banks, Jacksonville Mayor Lenny Curry lifted the mandatory evacuation order for Zones A and B and announced the city would be distributing water to those in need.
Curry cautioned that although the evacuation order was no longer in effect, it's possible some residents might not be able to get back to their homes yet.
"By the grace of God, working through first responders yesterday, we saved lives," Curry said.
Curry urged people trapped in flooded homes Monday to use makeshift white flags if they needed to be rescued. Jacksonville Fire and Rescue personnel and those from agencies around the country were using boats to go door-to-door through flooded streets in Riverside.
'Epic' river flooding
National Weather Service meteorologist Angie Enyedi said the city was experiencing a Category 3 surge from a tropical storm, calling it a "trifecta effect," with a storm surge, 10-15 inches of rain, and high tide approaching at 2 p.m. Monday.
News4Jax cameras showed white-capped waves spilling over the bank at the Jacksonville Landing and the courtyard looking like a wading pool. There was at least 2 feet of water on Independent Drive and adjoining Laura and Hogan streets.
Video from the top floor of The Peninsula condominiums showed water covering the Southbank Riverwalk and, looking across the river, showed water up against the Hyatt Riverfront Hotel and old Duval County Courthouse.
Curry called it unprecedented flooding -- a fact that was confirmed by weather data showing the city had already exceeded record flooding during Hurricane Dora in 1964. News4Jax meteorologist Mark Collins said the flood stage for the St. Johns River downtown is 2 feet, and it had reached 5.5 feet at noon Monday.
"I've heard this is bigger than Dora for our neighborhood," a Riverside resident said.
Chief meteorologist John Gaughan said while the waters would recede through the late afternoon Monday, flooding will stay with us for days, with rivers as high or slightly higher at the next tide after midnight.
City officials said the worst flooding would be from downtown south to the Buckman Bridge.
Those who need help should call 630-CITY, but if it's an emergency, call 911. Fire Chief Kurt Wilson said Fire-Rescue got 600 calls in an eight-hour period. There have been no known deaths in Duval County.
Copyright 2017 by WJXT News4Jax - All rights reserved.