MIDDLEBURG, Fla. – Nate Helmuth came home from war with a traumatic brain injury and PTSD, but instead of giving up, the combat veteran chose to help others like him. With his wife, Kristle, and their two children by their side, they worked tirelessly helping one military veteran at a time.
The couple, both U.S. Army veterans, also instilled patriotism and country into their children. 
Photos of their 12-year-old son Nate Jr., assisting in lowering the Stars and Stripes at Coppergate Elementary went viral last fall as Hurricane Irma approached.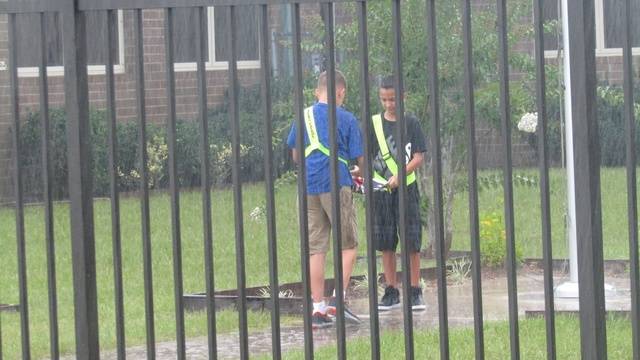 Now, the father that taught his son Nate Jr. and his daughter, Kinley, to respect the flag, is gone. 
"I think we always knew that there was that chance that things would be more serious than they were and maybe we would lose him," Kristle said.
They lost Nate just four months ago. On Jan. 6, the 36-year-old unexpectedly collapsed in their home; he lost his life to the wounds he suffered years earlier in Iraq.
Besides Nate's PTSD and his traumatic brain injury caused by an explosion in Iraq, he inhaled chlorine.
"Basically it just shredded his lungs," said Kristle. "He couldn't breathe."
They were injuries that dashed his dream to be a Blackhawk helicopter mechanic. 
"The doctors were saying, 'You'll never do anything normally again. This is it for you. This is your mental capacity. You know you'll probably never work, you'll never go to school but you served honorably, now relax.'"
The two Army veterans -- a power couple, if you will -- couldn't relax and moved to Northeast Florida so Nate could go to school to start a new chapter.
He wound up working for Merrill Lynch, and they were able to immerse themselves in a new community, where they could raise their children and serve others.
"We chose to live in a way that you know, we have today and we're just gonna live for today," she explained. 
Before his death, Nate and Kristle worked to help lead other veterans to find a bigger purpose. Now, after 12 years of marriage, the Middleburg mom is raising their children alone all while keeping Nate's mission and memory alive by giving other veterans a reason to live.
She's doing it through her work to help children of military veterans through the nonprofit the Hero Missions.
She is also a local service platoon leader with the organization The Mission Continues.
"The premise behind 'The Mission Continues' is to empower veterans to continue serving when we come home," said Kristle. 
Weeks after his passing, Nate's friends and fellow veterans kept on with their previously planned march at a Clay County park, what they call a "Ruck Walk in the Dark." It's a regular gathering to raise awareness of a cause both Kristle and Nate shared their passion for -- preventing suicide among veterans.
"There's such this like inner drive to serve and to serve each other and to serve people and to be part of something bigger," she said. "It's really kinda crazy how my whole life sorta points to that, and how it really has led people to find bigger purpose and that keeps me going."
She said she's struggling with where she needs to be right now but is focusing on her work with Hero Missions. Through that organization she's able to make a difference in the lives of children of veterans, providing services to help the entire family reintegrate into society more easily after deployment.
"There has to be something good to come from such a horrible thing," she said.
As we spoke with Kristle about her continuing efforts to help veterans and their families, her eyes sparkled with such intensity when she talked about Nate, the love of her life.
She remembers how they met, in the Army, as wide-eyed young soldiers, eager to change the world.
"We were gonna both be career soldiers!" Helmuth smiled remembering back. "We were, we were crazy!"
Crazy in love, too. 
"Everybody says like love at first sight, but it legitimately was. The first night we met we just kind of knew," she told us. 
She says she knew when she and Nate could make a difference, together. The young military couple married, and had their first child, a baby boy they named Nate Jr. But, Kristle said that explosion during his Iraq deployment derailed everything.
"Most people dream of the kind of love that I had and I feel blessed that even though it was cut short I had that much time with him," she said.
Now, Kristle marvels at her son and daughter as they keep their father's passion for his country, alive.
She watches them lower the flag on the lit flagpole, outside their Middleburg home. 
"It's something that was very important to him."
That home in and of itself has special meaning. In 2011, while Nate was part of a plan by PGA and the nonprofit "Birdies for the Brave" to give a fellow veteran a mortgage-free home, little did Nate and Kristle know, they too would receive a home on that Military Appreciation Night.
WATCH: PGA video of Nate and Kristle Helmuth surprised with mortgage-free home   
As they received, the couple continued to give, and why Kristle continues to give even though Nate is no longer with her. And when some days get more difficult than others, she never forgets what Nate would want her to do.
"I don't know what to do in this situation, but I know what he would want me to do and this is a cause that's really close to his heart as well as mine. So, we're just going to keep going and keep doing the things I know he would be doing if he were here."
While she works hard to help others, what others may not realize is, they are helping her, too.
"We know when we come here we're surrounded by brothers and sisters who get it and understand what we're going through without ever having to say it."