JACKSONVILLE, Fla. - After an overwhelming response Saturday that saw some people turned away, News4Jax is working on arranging another Shredder Day to help area residents get their personal documents destroyed.
With the ocean of personal financial documents we all have -- ATM receipts, credit card receipts, bills, unsolicited credit offers and more -- it's no wonder identity theft is a growing problem.
WJXT Channel 4, The Local Station, Shred-it, Florida State College at Jacksonville and Family Foundations partnered to invite consumers and businesses to protect their identities by shredding unwanted personal, financial and confidential documents.
The Shredder Day event was held from 7-11 a.m. Saturday at FSCJ's downtown campus at 101 West State St. in Jacksonville.
During the event, thousands brought documents and had them shredded by an on-site, certified Shred-it employee. From drop-off to destruction, all documents were constantly monitored and protected.
A total of 1,603 cars were served during the event, but the trucks filled up and some people had to be turned away.
News4Jax is working on arranging another Shredder Day and we'll update this article once the day and time have been set.
With identity theft being one of the fastest-growing crimes, shredding can help reduce your risk.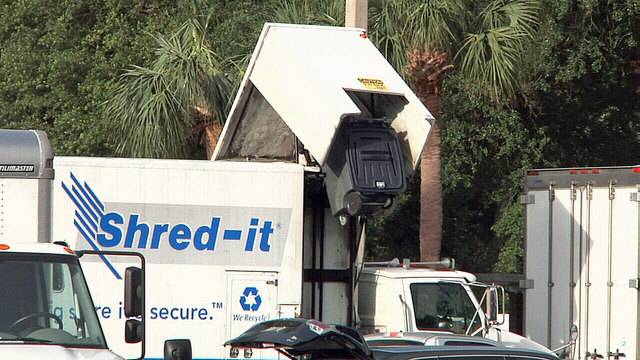 "I don't dare put this stuff in the garbage," a participant said. "I have Social Security numbers, bank statements, birthdays; anything you want to find out about me is in my back trunk."
Some people waited in line for hours to get their documents shredded.
"It's worth it. Definitely worth it," Addie Reed said.
Although can do it yourself at home many prefer going to Shredder Day and seeing professionals shred it.
"I think it's safer here," Joanne Daniels said. "I don't want my important documents to get into the wrong hands. This gets rid of clutter. I went through my office and got all my old bills and bank statements, old checks, all that stuff."
Participants didn't even need to leave their vehicle. Volunteers removed the boxes from participant's vehicles, dumped out the material then returned the boxes to the vehicle.
Because of the expected demand, participants were asked to only bring five boxes of paper material at a time for shredding.
"Only paper -- no binder clips, spiral notebooks or hardback notebooks," Bill Haley, CEO of Family Foundations, said. "Staples are OK, but no CDs or DVDs, nothing laminated, metal or plastic."
Haley said that there are some specific types of documents that individuals should bring to shred.
"Sensitive financial information, like old tax returns, bank or brokerage statements that can include information like Social Security numbers or home addresses," Hayley said. "Credit card offers and expired licenses are also important to shred because it safeguards individuals from potential identity theft."
Haley also recommended shredding voided checks.
Copyright 2017 by WJXT News4Jax - All rights reserved.